Custom anime portrait for valentine's day gift, gantstudio.com – Many people around the world celebrate Valentine's Day on February 14th. Not only for couples, Valentine's Day can also be celebrated with family and friends even close friends.
Celebration of love and affection can be done in various ways. Usually, people will compete to express their love and affection for dear person.
Apart from passing greetings, giving Valentine gifts to loved ones is the right idea to make them happy. Besides flowers and chocolates, try something different this year, don't be mediocre, xixxi… And we have recommendations for you to be able to give gifts that are unique and definitely memorable, Yep give it a try made a custom anime portrait for this year's Valentine's gift.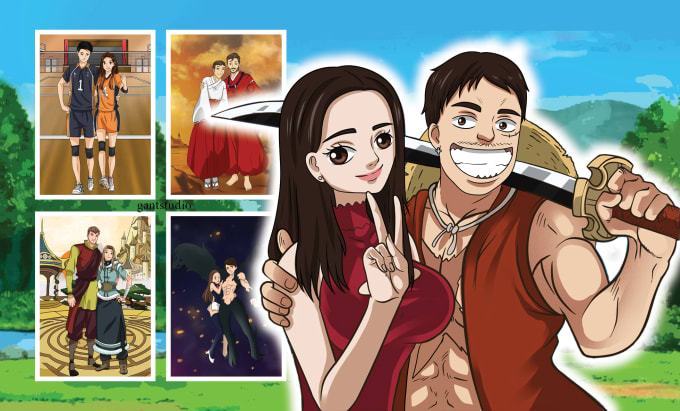 https://www.fiverr.com/gantstudio/draw-custom-anime-couple-portrait-and-wedding-illustration?context_referrer=user_page&ref_ctx_id=cac3ce581eac7b51befb86afcc907787&pckg_id=1&pos=1&imp_id=1929cc3e-292f-42ae-b7f9-534c307a3e39
Don't be confused looking for a website for custom anime portrait creation services, gantstudio.com is the most appropriate place for you to make a reference. There have been many reviews from happy customers who are helped and satisfied with the service from gantstudio.com. Or You can visit fiverr for more reviews
An unusual gift that will become memorable because you will capture the moment you and your loved ones get together in a custom portrait. Moreover, there will be many anime styles that you can choose, of course, according to your preferences. You can choose, for example, anime Dragon Ball, One Piece, Naruto, Sailor moon, avatar, demon slayer, or any anime.
After determining your anime style, all you have to do is choose the best photos of you and or your loved ones, then send them to gantstudio.com. You just have to wait with estimates 3 days to get the best valentine gift of the year.
Below are some custom anime portrait portfolios from gantstudio.com for your consideration
Custom anime portrait for valentine's day gift
1.  Dragon Ball
2. One Piece
3. Naruto
4. Avatar
5. Sailor Moon
6. Demon Slayer
And more anime and cartoon style
Read More custom anime portrait
Now, after seeing some custom anime portrait for valentine's day gift made by Gantstudio artists, now you can decide which style to choose. I hope this helps